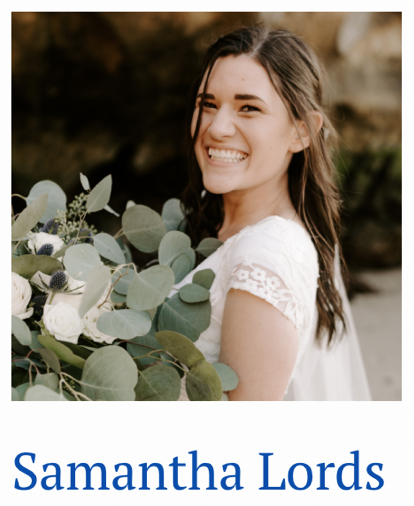 Class of 2023
  Studied at Brigham Young University in the Sociology department and graduated in 2023. She was an ecclesiastical teacher for nine and ten-year-olds. She is really personable and has good communication skills. Samantha helped with fundraising, research, organizing of life coaching topics, and helped at booth events. Samantha was among our first  interns and will forever be a large part of Kidz Can.
The Life Changing Effects of Digging Just a Little Deeper.
By Samantha Lords
In all my research I have done on the topic of Adverse Childhood Experiences it is hard to find anything about the topic without encountering the name Dr. Nadine Burke Harris. Dr. Burke Harris is a Canadian American Pediatrician who has worked to help so many people struggling with ACEs and other health issues related to the ACEs. She is the founder of the Center for Youth Wellness in San Francisco's Bayview Hunters Point, which is where her journey of discovering the relationship between ACEs and health issues all started.
One day she was working with a patient when she noticed this seven-year-old boy was the size of a four-year-old. His growth had been stunted but Dr. Burke Harris could not figure out the cause. His labs couldn't give her a reasonable explanation as to why he wasn't growing. It wasn't until she talked with the boy's mother that she was able to discover something that became so life changing. After Dr. Burke Harris asked a few question about the boy's medical history she felt it was important to ask about past childhood trauma. This was when the boy's mother let her know that the boy had been sexually assaulted by a family friend when he was only four years old.
Most doctors would just continue to treat these patients and their symptoms and then send them on their way. But Dr. Burke Harris is different and was taught that if there are thousands of kids getting sick and drinking from the same well, nothing is going to be fixed if you never figure out what is wrong with that well. She knew she needed to get to the bottom of this trend because not only was this boy experiencing health issues due to childhood trauma, but multiple patients were experiencing the same thing. One day a colleague came into her office and handed her a study that changed the course of her career for the better. It was a study by Vincent Felitti, Robert Anda, and colleagues called The Adverse Childhood Experiences Study. This study found that 67% of the sample representative of the population had at least a score of one on their ACE test and 12.6% had a score of four or more. Those that had an ACE score of 4 or more were 2.5 times as likely to develop Chronic Obstructive Pulmonary Disease, 2.5 times as likely to get hepatitis, 4.5 times as likely to have depression and 12 times as likely to have suicidal thoughts or actions compared to those with an ACE score of 0. Some people might think that these results are because these people engage in more risky behaviors compared to people with lower ACE scores, but similar results were found even when controlling for risky behaviors like drinking, drugs, and smoking. All of these statistics really show just how serious of an issue this is. Dr Robert Block, the former President of the American Academy of Pediatrics said, "Adverse childhood experiences are the single greatest unaddressed public health threat facing our nation today."
So what is there to be done about this? In Dr. Burke Harris' book The Deepest Well: Healing the Long-Term Effects of Childhood Trauma and Adversity, she suggests that the first step is screening for ACEs everywhere. She desires for this to be done in schools, during doctor's appointments, and anywhere a child could be helped. But this all starts with bringing awareness to the issue and helping people see that something needs to be done. In the epilogue of Dr. Burke Harris' book, she shares her hopes for the future. She sees herself retired with grandkids to spoil and daughters-in-law that praise her for the fact that they just had an ACE screening at their child's last checkup. She sees her son as an elementary school teacher sharing about how the teachers receive training all about the ACEs screening and ways that teacher can help. Although our society hasn't reached this level of acceptance of the ACEs problem yet, I also hope to see a world where we aren't afraid to talk about childhood trauma and we aren't afraid to address it head on. We at Kidz Can are dedicated to helping this dream become a reality so that kids who are at risk have opportunities to overcome the trauma they have experienced whether through our program or through other means of intervention.
 If you would like to learn more about Dr. Nadine Burke Harris and her discovery on ACEs you can check out her book, The Deepest Well: Healing the Long-Term Effects of Childhood Trauma and Adversity or you can watch her TED talk titled How Childhood Trauma Affects Health Across a Lifetime. https://www.ted.com/talks/nadine_burke_harris_how_childhood_trauma_affects_health_across_a_lifetime?language=en
References
Burke Harris, Nadine.  2014.  How childhood trauma affects health across a lifetime.  https://www.ted.com/talks/nadine_burke_harris_how_childhood_trauma_affects_health_across_a_lifetime?language=en
Burke Harris, Nadine.  2018.  The Deepest Well: Healing the Long-Term Effects of Childhood Adversity. HarperCollins Publishers.
Felitti, V. J., R. F. Anda, D. Nordenberg, D. F. Williamson, A. M. Spitz, V. Edwards, M. P. Koss and J. S. Marks.  1998.  "Relationship of Childhood Abuse and Household Dysfunction to Many of the Leading Causes of Death in Adults – the Adverse Childhood Experiences (ACE) Study."  American Journal of Preventive Medicine 14(4):245-58. doi: 10.1016/S0749-3797(98)00017-8.Your content goes here. Edit or remove this text inline or in the module Content settings. You can also style every aspect of this content in the module Design settings and even apply custom CSS to this text in the module Advanced settings.